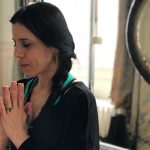 Traditional Chinese Medicine practitioner, Shiatsu therapist, Yoga teacher, Kirtan Leader, Hypno-Psychotherapist and Vibroacoustic therapist.
Clinic in Hampton Wick, Kingston & Richmond upon Thames.
+44 7947444194

From Alva:
In 2002 I have graduated Traditional Chinese Medicine (Acupuncture, Herbology and Tuina) in an incorporate study program between Reidman International College for Complementary and Integrative Medicine and Chengdu University of Traditional Chinese Medicine (TCM) in China.
During these 4 years of studies I was privileged to be exposed to many different methods of healing and therapies and took additional classes outside the TCM frame.
I've graduated Shiatsu therapy and practised daily Qi Gong and meditation.
This is when I met and immediately fell in love with Yoga.
It was Sivananda Yoga and I am very grateful that this is my practice and teaching foundation.
Throughout the years I was offered to take different teacher training courses but I did not feel it was the right time for me.
On 2012, 14 years into yoga, different styles including: Astanga, Jivamukti, Dharma Mittra, Bikram and many more,  different magical teachers and studios, 2 yogi children and an amazing supporting husband, I decided that I'm ready.
I have graduated Sun Power Yoga teacher training course with Anne-Marie Newland.
Sun Power Yoga is a wonderful fusion of three distinct forms and traditions:
The classical Sivananda yoga – Anne-Marie is a student of Swami Vishnu Devananda.
Sivananda yoga focuses on 5 points: proper exercise (Asana), proper breathing (Pranayama), proper relaxation, proper diet and positive thinking & meditation.
Astanga yoga – Sri K. Pattabhi Jois – Vinyasa or flow of movement and purification.
B.K.S Iyengar yoga – which is well known for the detailed alignment.
I am now teaching my own style, a combination which is influenced by my many teachers and sharing my practice with lovely people from the local community of Teddington and Kingston area.
My aim is to create a place where we can practice yoga in its many aspects and at any level. A place where one can focus on one's Self and feel safe and capable to allow physical, emotional and spiritual growth.
Join us!
Namaste
Alva