2 full days educational course with certification by Sound Energy Medicine Practitioners Association (SEMPA)
On successful completion you will be certified as Sound Therapist, can request Insurance and start professional activity
*ONLINE COURSE is also now available if you can't attend group session. Enroll at Online Course
Lola Lhamo has been teaching this course since 2013 in Europe and the USA. Now Lola is based in Bali, Indonesia.
UPCOMING DATES:
Level 1: Please, DM
We also have Level 2, dedicated to Sacred Geometry of Universe, Human and Sound, more advanced Sound Bath techniques, and learning overtone chanting , Light Language channelling, rediscovering the power of our Voice.
COURSE CONTENT:
Discover ancient Energy Medicine techniques of the Himalayas – sound healing with Himalayan Singing Bowls, and latest science behind healing with vibration and sound.
Powerful ancient science of healing with the sound and vibration has long and incredible story. For many centuries the monks, the doctors, the shamans and common people of Japan, Bhutan, Nepal, India, Tibet have been using the bowls for healing the body and the soul, for meditation and sacred rituals. They believed in special powers of the bowls, which were the medium between themselves and cosmic consciousness, some practices were secret and were shared only between the monks and the shamans.
The sound and vibration are powerful energy medicine.
Sound Energy Massage with Tibetan Singing Bowls has healing impact on many levels:
~ Physical body: deep vibration releases the tension of muscles, massages the organs, sound rewires the brain, the stress and anxiety are dissolving due to brain functioning in optimal state, which also improves the work of glands, immune system and organs. It has been confirmed that the cancer cells shutter after sound therapy (see Dr Holland research), sound impacts the cells to produce more nitric oxide, highly beneficial for blood vessels health (and Qi flow in the body), sound may also reactivate some genes to go from state G0 (sleeping) to G1 (active), by this improving activity of the body on cellular level. Please, see more details on our page Science and read Lola Lhamo's book.
~ Energy body: combined vibration and sound release emotional tension and blocks, purify subtle energy channels and the energy field blueprint, which as a result may rejuvenate the DNA structure (your information hardware).
~ Cosmic Holographic Blueprint: by opening your energy channel with sound and vibration you may experience spiritual awakening, union with universal consciousness and can heal yourself with new pure energy flowing through your open energy channel, also triggering personal transformation.
On this course you will discover:
foundations of Energy Medicine: Supreme Yoga practices with Light, Seeing everything as Energy (Ati Yoga) , Gratitude, Breathing and the power behind your Voice for developing regular self-purification practice, as well as connecting understanding of Supreme Yoga practices with neuroscience and quantum physics
History of the bowls and their role in the Himalayas
Impact of Sound Energy Medicine on body, mind, and spirit
Techniques for self-healing, meditation, and healing other people with the bowls, for individuals and groups (4 techniques)
Science behind healing with vibration and sound, the latest scientific research in the area of sound energy medicine
How to integrate singing bowls into yoga & meditation classes, other massage therapies, Reiki, work with children, elderly, in charities, post-traumatic support centres, psychotherapy
You will learn the technique of Sound Energy Massage with the bowls, and 2 Sound Bath techniques for balancing chakras and 5 elements, and obtain the skills of leading Sound Bath and integrate Himalayan Singing Bowls to yoga classes.
This unique therapy stayed hidden for many centuries, kept sacred in Buddhist tradition of healing and enlightenment.
Food for thought: some sources mention that in Buddhism Maitreya, the Buddha of the future, may be translated from Sanskrit as Harmonic Resonance…
The science started to research the impact of vibration and sound on human in XIX century, Einstein, Tesla all believed in incredible power of vibration and resonance, later few scientists were able to shut cancer and leukaemia cells in human body with the resonance. See more at our page Science…
Himalayan Singing Bowls are becoming more and more popular in recent years with Tibetan lamas travelling the world, and yogis incorporating the bowls into group meditations.
This course will cover several powerful sound and vibration healing techniques:
~ QUANTA'Alchemy Energy Healing: Foundations of Energy Medicine, Supreme Mind Yoga & Tao Cosmic Healing
~ Sound Energy Massage with the bowls – when the bowl is in placed on the body of the patient
~ Sound Energy Bath: Balancing Chakras
~ Sound Energy Bath: Balancing 5 Elements
~ Integration of practice with the bowls into yoga & meditation classes, Reiki, other massage therapies, work with children, elderly, in schools and charities, in psychotherapy and councelling
The course will be lead by Lola Lhamo, yoga & Qi Gong teacher and energy healer with 15 years experience, the founder of the Sound Energy Medicine Practitioners Association, and QUANTA'Alchemy programme.
Lola has deep connections with Tibetan Buddhism and yoga from childhood, she helped in building Buddhist Peace Stupa at Roerich Museum, travelled to India and Nepal to places of powers with Tibetan lamas, participated at Congress on Psychology and Spirituality in India. Lola has learned the techniques of working with energy, sound and vibration from Tibetan lamas and also by practicing with other masters of the bowls and energy healing. Lola also worked in international consultancy for over 15 years, bringing social responsibility and transformative innovation. She shares the skills of Spiritual Coaching, empowerment and visionary into each course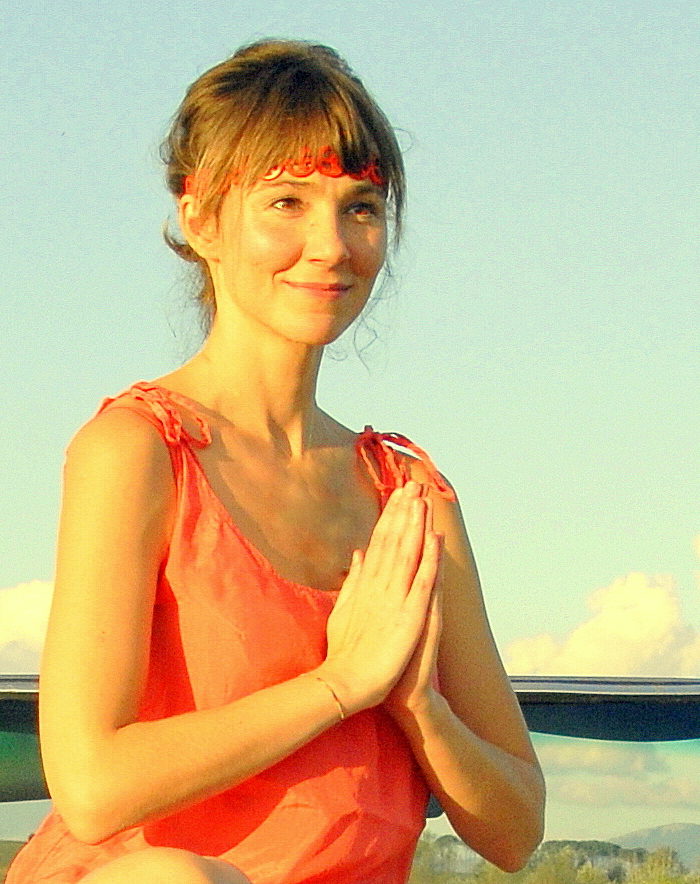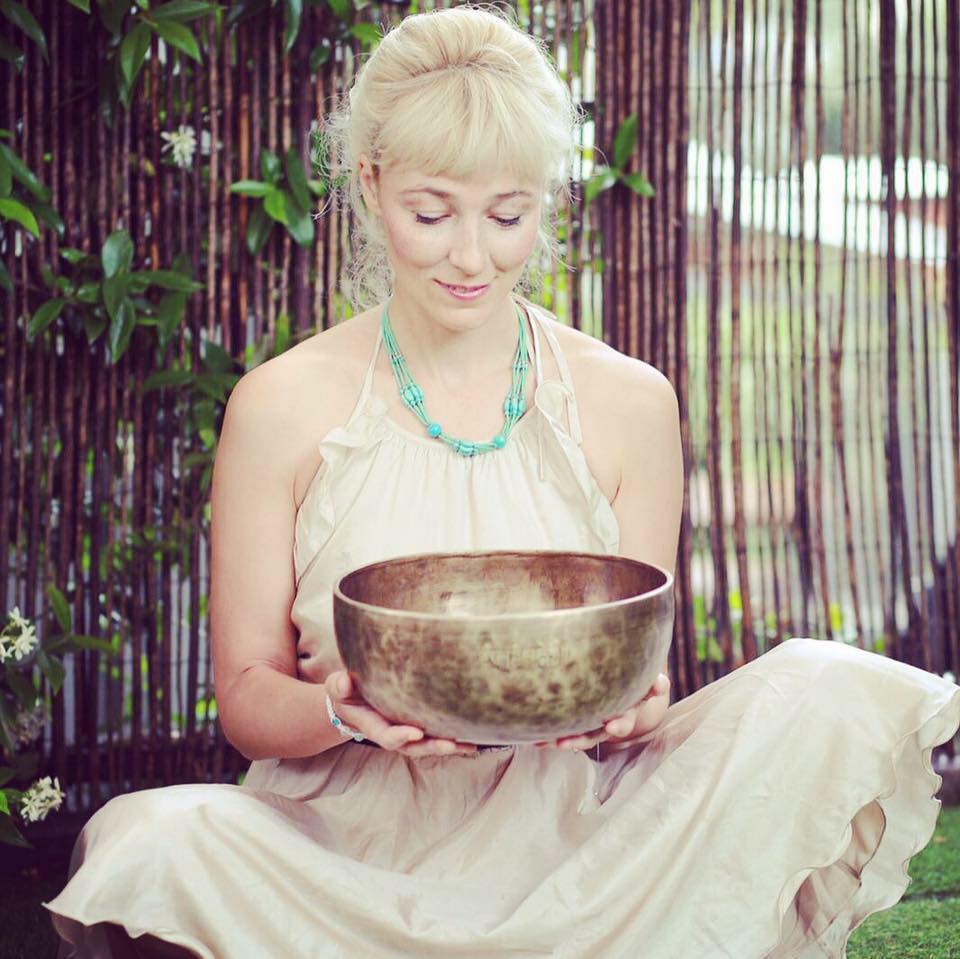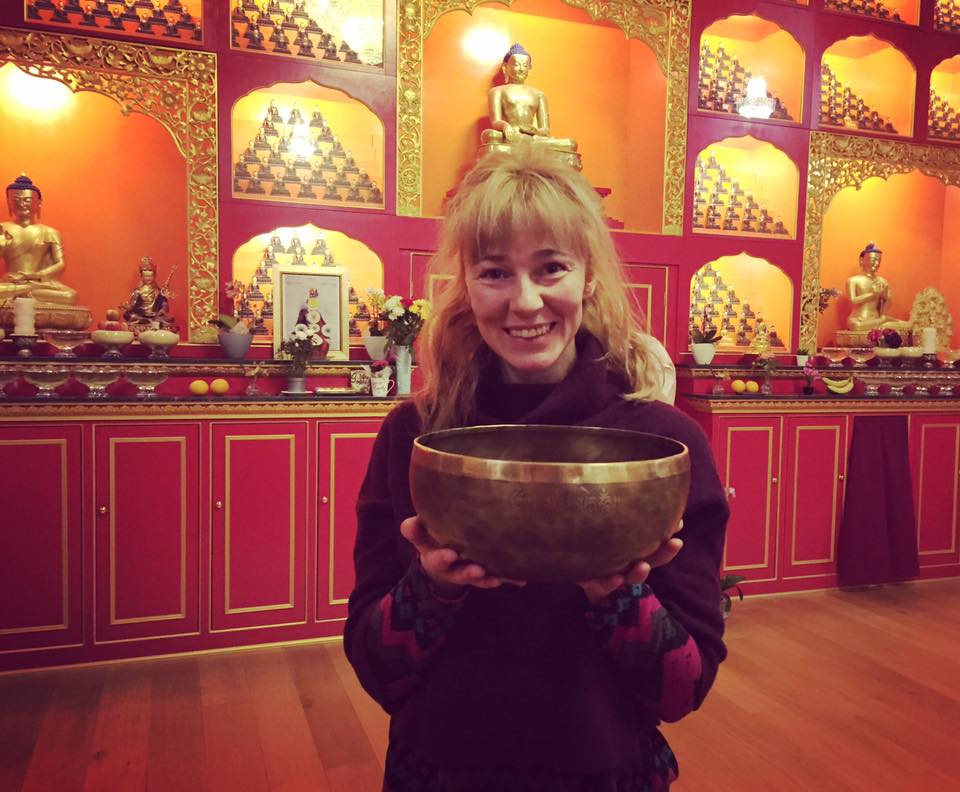 COURSE PROGRAMME
Day 1. Sound Energy Massage with Singing Bowls
9-10am: Getting to know each other
10am-11am: Foundations of Energy Medicine. QUANTA Energy Healing. History of the bowls. Science about the vibration, sound, frequency and resonance. Quantum and field theories and their correspondence to sacred knowledge in Sutras. Practices to activate healing potential and transform consciousness.
11am-12pm: Sound Energy Medicine with the bowls: the impact of the bowls on your physical and energy bodies, channeling, connecting to universal healing energy.
12-1pm: How to choose the bowl for yourself. Simple techniques of handling the bowl (striking, stroking, turning the bowl, moving the bowl from hand to hand while it sings)
1-2pm: Lunch
2-4pm: Technique of Sound Energy Massage with Himalayan Singing Bowl, indications and contra-indications for the therapy, case-studies. Integration to group meditation & yoga classes, for self-healing and personal meditation.
4-6pm: Practice on each other
Free time
Sunday: Day 2. Sound Bath with Singing Bowls
10am – 12pm: Understanding chakras – energy centres of the body. Mantras & postures for activating and purifying chakras. Chakras in classic yoga, Tao and Buddhist traditions.
12pm-1pm: Sound Bath Chakras Balance technique
1-2pm: Practice on each other
2-3pm: Lunch
3-4pm: Sound Bath 5 Elements Balance technique
4-5pm: Practice on each other
5-6pm: How to lead Sound Bath. Integration of Crystal and Himalayan Singing Bowls to Yoga & Meditation classes, Reiki, other massage therapies, psychotherapy and counselling, working with children and elderly, in hospitals and hospitals
Q&A
COSTS and BOOKING
Cost: £250 or £125 for Day 1. You can complete Day 2 with another group, if limited in time
Private course is also available. Gift vouchers are warmly welcomed
Payments are non refundable, if for any reason you can't attend, however you can participate in another course at a later date.
Bowls will be available for practice and purchase, and if you have your bowls – do bring them to charge with the energy.
You can view all Singing Bowls for sale HERE. You don't have to buy the bowl before the course, as first you need to learn how to choose the bowl during the course. We will also give links to other shops where you can find your bowl.
Book by the link below or contact Lola Lhamo: +44 7757093532 lolalhamo @ gmail . com or +62 81239177823 (Bali)
Booking via PayPal includes PayPal fee. If you would like to pay without commission by bank transfer, here are the details for GBP
KEYIDEA Consulting. Account: 23313506. Code: 208057
Please, contact for bank transfer in IDR
Pay safely via PayPal or by bank card
Facebook: https://www.facebook.com/lola.lhamo.yoga
Instagram: https://www.instagram.com/lolalhamo/
Reviews of the course