We are incredibly delighted to collaborate with Ram Vakkalanka, Nada Yogi, Sanskrit teacher, and Yoga philosopher!
This Course is jointly certified by Sound Energy Medicine Practitioners Association, UK (www.soundenergymedicine.com), and Akshara Yoga, India (www.ramvakkalanka.com)
This is Level 2. Please, complete Level 1 first (follow this link) to enroll into Level 2
***********
मोक्षसाधन सामग्र्यां भक्तिरेव गरीयसि
"Mokshasādhana Sāmagryām Bhaktireva Garīyasi
Among all the available tools for Enlightenment, Bhakti is the best"
~ Adi Shankara
About Bhakti
Bhakti is the Yogic word for Love. The need to give as well as receive love is one of the fundamental needs of all living beings. However, the love we give and receive in mundane life is usually considered 'conditional love'. It comes packaged with expectations and conditions. In other words, what we consider as love is Love mixed with a certain amount of selfish element on the part of the individuals involved. The Bhakti Love, on the other hand, is Love without any expectations and conditions. It is Unconditional Love, something similar to but much higher than what we usually consider as love.
Bhakti is about cultivating the heart and finding the Divine within through the path of Love. It forms an important path of Yoga and is known as Bhakti Yoga. Bhakti Yoga is about tasting and enjoying the incomparable sweetness of joyful Love… Love in all its aspects. Relative to other paths of Yoga, Bhakti Yoga has less philosophy and loosely constructed practices, but then who can rigidly bind Love into theories and practices? It is up to every yearning Heart to find its own way to express Love. And, for this very reason, it is considered as one of the most effective paths of Yoga in transforming the practitioner and elevating their consciousness to Universal Consciousness relatively effortlessly.
In the practice of other paths of spirituality, there are means and there is an end. Bhakti, on the other hand, is considered as both the means as well as the end. For Bhakti Yogi(ni) 'Enlightenment' or 'Union' is retaining his/her individual consciousness so he/she can continue to experience the sweetness of Love for his Beloved Lord.
Bhakti Yoga begins as a formal practice but eventually transforms into this inexpressible, joyful feeling in the heart that transcends all theories, practices and regulations.
Bhakti begins with the intense yearning of the heart to experience the highest form of Love, with a formal object – the Ishta Devata – the Deity chosen as one's Beloved. However, through the highly transformational practices of Bhakti Love, it culminates in oneness with the Beloved. It begins with Love for the Divine and eventually extends to Love for all beings, as manifestations of the Divine. And, there in lies its practical utility.
********
"The Yogi does not love, Yogi is Love itself."
-Swami Vivekananda
* * * * * * * * *
"Bhakti is the Yogic word for all-consuming Love for the Divine. Bhakti is a celebration of Love. We think systems – be they mundane or spiritual – with rigidly defined structures, philosophies and practices are most effective in achieving a desired result. However, the effectiveness of Bhakti lies, interestingly, not in rigid structures of philosophies and practices but rather in the heart-melting, all-consuming Love it teaches us to practice. Bhakti harnesses the power of the Heart like no other spiritual path. In this age of head-dominated lifestyle, the Heart-cultivating practice of Bhakti is like a big spiritual oasis. It helps us achieve the much needed balance between the head and the heart.
Bhakti helps us remain human, especially in modern times."
~ Ram Vakkalanka
* * * * * * * * *
The immeasurable benefits of Bhakti practice:
We live in a world of perpetual intellectual and sensory stimulation so much so that there is very little scope for cultivation of the heart and its wonderful qualities such as love. The unfortunate results of such life style is relentless agitation, lack of peace of mind and an undeniable sense of imbalance and lack of fulfilment in life. They make our hearts dry and deprive us of the experience of the beauty and joy of life.
Bhakti Yoga breathes life into Life. Bhakti is like a refreshing oasis in the midst of dry, over-stimulated intellectual existence. It connects us to our human – and Divine – side. Through the cultivation of the Heart, the power of faith, the power of story-telling, singing and chanting Mantras and overall sense of celebration of Life and Love.
Mantra chanting, Mudras and other such Yogic practices are part of Bhakti Yoga also and extend their great benefits to the Bhakti Yogis.
Bhakti and its cultivation are especially important in the current times of great political and economical pressure, which result in restlessness of the mind, stress, anxiety and inner conflict. When there is decline in ethics, moral values and self-confidence, it is critical to work towards sustaining inner strength, peace, harmony and being rooted in integrity and wholeness.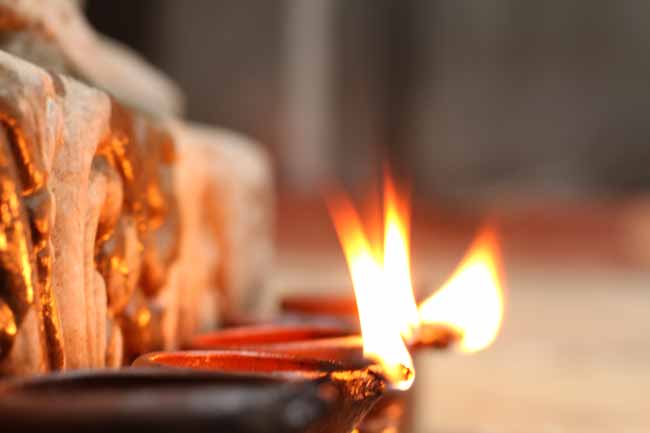 About this course
This course is Level 2 of Nada and Bhakti Yoga course. We designed the course to be in three levels – Foundations (link to Level 1), Intermediate (Level 2) and Advanced (Level 3, coming live in 2021), for full immersion into the beauty of Nada and Bhakti Yoga.
We intend to share, through this course, the sacred wisdom of the ancient Nada and Bhakti Yogas and empower the practitioners in their own spiritual practices. The form of teaching will be a joyful blend of philosophy, practice as well as story-telling.
The course will be delivered in 10 online sessions, each session being 1.5 hrs, for a total of 15 hours. Plus, unlimited online access to the recording of the course is included without any additional charge.
Course Syllabus:
This course provides practitioners a solid foundation in the heart-based philosophy and practices of Bhakti Yoga. We will gain insight into what is Bhakti, the origin in the Veda and evolution through history and how it seeks to heighten one's consciousness through the path of Love.
We will study two ancient texts – 'The Bhakti Yoga Sutras' of Narada and the Bhagavatam. These texts will serve as anchors, helps us gain deeper understanding into Bhakti, the two stages of its development and the four approaches as well as the nine practices of this path.
We learn about 'Ishta Devata', the Chosen Deity, for whom we cultivate unconditional love in the beginning, eventually expanding it to include all beings. We also learn how to perform Puja – a simple, sacred spiritual ceremony to connect with the Ishta Devata – combining Mantras, Mudras and Pranayama.
**********
The course consists of 10 live online lessons of 1.5h each (15h in total). The sessions are a beautiful blend of the principles and practices of Bhakti, delivered mostly through story-form of teaching.
Lesson 1: Introduction to and origin of Bhakti
Lesson 2: The concept of a Personal God and its benefits
Lesson 3: Bhakti Yoga Sutras & Bhagavatam – 1
Lesson 4: Bhakti Yoga Sutras & Bhagavatam – 2
Lesson 5: Bhakti Yoga Sutras & Bhagavatam – 3
Lesson 6: Bhakti Yoga Sutras & Bhagavatam – 4
Lesson 7: Bhakti Yoga Sutras & Bhagavatam – 5
Lesson 8: Bhakti Yoga Sutras & Bhagavatam – 6
Lesson 9: Puja Ceremony – 1
Lesson 10: Puja Ceremony – 2
Video recordings are below
Ram Vakkalanka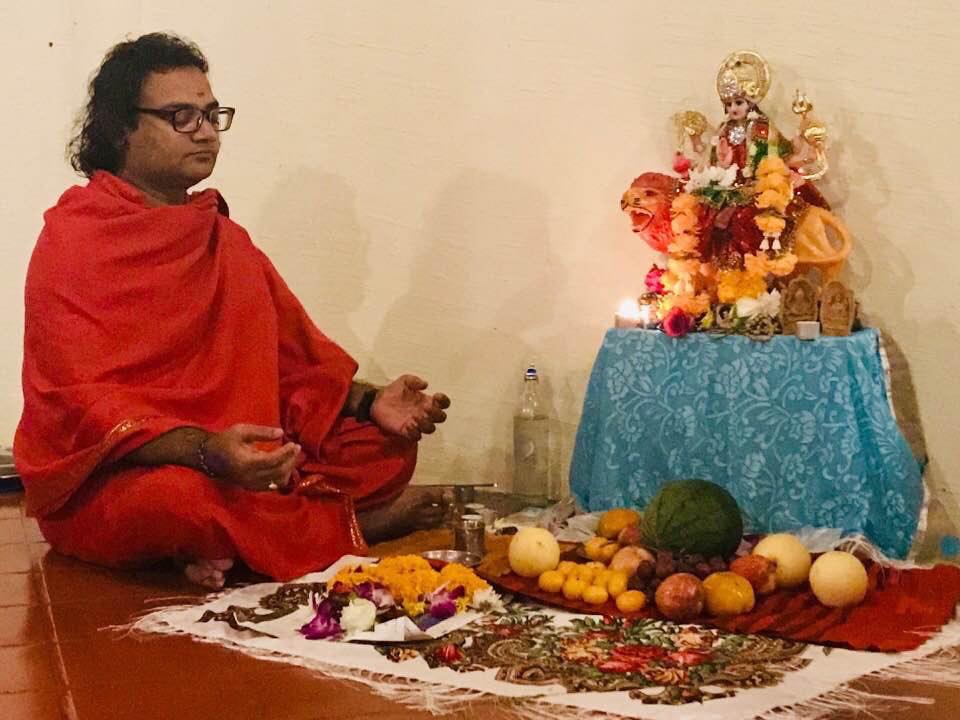 Ram Vakkalanka was born and brought up in India, steeped in Sanskrit, Mantras, Vedic philosophy and life sciences such as Ayurveda and Vedic Astrology. Ram started learning Hindustani classical music as a teenager, eventually leading to immersion in Nada Yoga. Ram shares his deep wisdom of Nada Yoga, Sanskrit, Vedic philosophy and sciences with seekers all over the world. He is often described as a 'blessing to the world Yoga community'. Ram's teachings are deep and authentic, delivered in a simple and direct style, enriched by current examples and a sense of humour. So far, Ram brought out 23 CDs in three languages, 1 DVD and an online course about the origin and evolution of Yoga to share his authentic wisdom. For more about him or to listen to samples of his offerings, please visit www.ramvakkalanka.com. You may connect with him on Instagram (ram_vakkalanka) or his Facebook page (Akshara Yoga).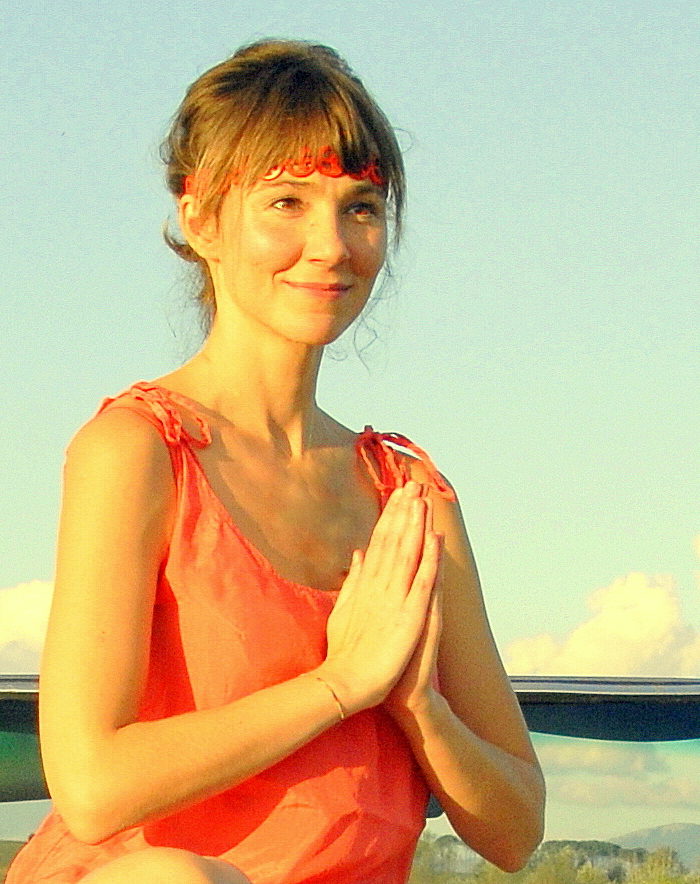 Lola Lhamo is the founder of Sound Energy Medicine Practitioners Association (SEMPA).
Lola has connection with yoga, sound and energy healing from childhood. She was blessed to study with Indian yogis and Tibetan lamas, and after 25 years of practice she created LHAMO Yoga & Sound Energy Medicine educational programme, integrating Himalayan Hatha & Kriya Yoga, Pranayam & Meditation, Yoga Nidra and Sound Journeys, Taoist Qigong & Yin Yoga, Tao Cosmic Healing and Buddhism Mind Yoga, and QUANTA Energy Healing.
Lola founded Sound Energy Medicine Practitioners Association in 2013, believing the sound to be the medicine of the future. She teachers Sound Energy Medicine courses. www.LolaLhamo.com
From Lola Lhamo: "It's a blessing and our great pleasure to collaborate with Ram again. In 2017 we organized weekend workshop at the Theosophical Society in London, on which Ram was sharing his knowledge of Mantra Yoga and divine vibrations of Sankrit. We listened and chanted mantras together, asked questions & received profound answers. That was truly an amazing, transformational day! Ram was also speaking about the Evolution of Yoga, Mudra Yoga and working with Inner Energies, and in the evening we enjoyed live Sitar concert. His knowledge of Yoga is phenomenal, and it's a privilege to be connected on this path with such beautiful soul, and be able to touch upon sacred knowledde of Nada and Supreme Yoga with such guide."
Payment by installments
every 2 weeks for 2 total payments
Unlimited access. You may choose to pay weekly by 2 installments (£80 booking the course, and £80 in 2 weeks). Kindly note, we may certify you only if you attend all 10 sessions
Bhakti Yoga